About Us at "Trusting in Jesus"
Fisher of Men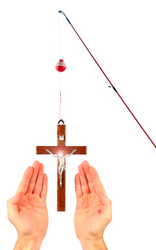 Hello, my name is Samuel Lynn Mills , thank you for visiting my "About Us" page. This website is all about glorifying God and learning to trust in Jesus. My purpose is to introduce others to Jesus and to help them know what a great and loving Saviour we have.
My desire is to guide those who are hurting and seeking Christ and want to know what He, not I, have to say; to help others see His promises come alive in their own lives, to know that the best life is the Christian Life.
In addition to many years of my own study in God's word, I have earned an associate's degree, a Bachelors Degree in Church Ministry, and will hopefully soon complete the Master's Degree in Christian Studies. The more I study the more I realize what a great and wonderful Heavenly Father we have.
In building this website God has proded me out of my comfort zone far more than I could have ever thought possible.
For the first time in my life I know that I am in God's will. I have learned that, with God, no matter what ones position, situation, or age, it is always just the beginning.
People in all parts of the world visit this website. Last month this, and the sister website "www.NecklaceCrosses.com", each reached over 140 countries which, according to Wikipedia, includes nearly every country with Internet access.
God has given me a passion for this ministry, it is my contribution to Him.
My prayer is that the "Trusting in Jesus website" will illuminate Christ, and that He will be at the forefront in every matter. Hopefully as you dwell on these pages, you will not see me, only Jesus and what He can do, for He is everything.
Blessings,
Samuel Mills