"Christian Articles"

By Samuel Mills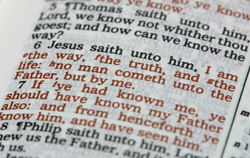 Christian articles for a world filled with theological confusion, covering some of the deepest and most difficult questions, Passages, and Godly principles in the Bible. more...
Finding Hope
Healing
More About Jesus
''The Names of Jesus''

"Commandments of Jesus" 
More about God
"The Trinity of God"

"The Names of God"

"The Greatness of God"
The Holy Spirit
''The Holy Spirit - FAQ''

''Power of the Holy Spirit''

"Led by the Spirit"

The Holy of Holies
''Holy of Holies''

''How to Approach the Holy of Holies'' 
The New Covenant
 "The New Covenant''

''The Law and Christianity''
The Old Covenant
"The Three Catagories of the Old Testament Law"

''The Ten Commandments''
The Walk of Faith
Speaking in Jesus' Name

"The New Man in Christ"

"Take up Your Cross"

"Faith and Works"

"Store'Front Christians" 

"Loyalty and Faithfulness"

"God's Special Care" 

"Planted by the Waters" 

"Decision Making Skills"

"Basic Christian Money Management Skills"
Powerful Scriptures
''Healing Scriptures'' 

"Faith Building Scriptures"

"Prosperity Scriptures"

"Love Filled Scriptures"

"Miracles of Jesus"
About Angels
"Angels" 

Demons and Curses
"Demon Possession" 

"Generational Curses"
Religious Freedom
"Christians in America Please Stand Up"

Christians are Followers of Jesus"
Studies and Resources
"Day of Worship, Which should it be?"

"Creation or Evolution"

For the Seasons
"Good Friday"

"Message for Easter" 

Other Popular Pages:
Parables of Jesus

Inspirational Articles and Stories

Trusting in Jesus, Home Page

By Samuel L. Mills 
Continued from top:

...articles on Hope - Healing - Commandments of Jesus - The Trinity of God - Gifts - Old Testament vs New Testament Laws - Faith - Evolution and creation - God's sense of Humor, and many others. 
The opinions of others and denominational views, though loved and respected, are not taken into  consideration. Every effort has been made to present God's Word in a way that reflects the intended message of the original writer.   
These are short Christian articles and most can be read in less than five minutes. I pray they will be a source of joy, hope, and guidance.
Please use the form at the bottom of each page to contact me.
Attempting to build a future based upon anything other than the Word of God, is like building on quicksand. 

Samuel Mills