"Short Christian Articles"

By Samuel Mills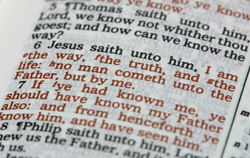 Most of these short Christian articles can be read in less than five minutes. They are all unique, freshly written, and have not been copied from another sermon. I pray they will be a source of joy, hope, and guidance, and that the unsaved will clearly understand what it means to become a Child of God and to receive the gift of eternal life.
God is a good God. If we go astray He is always there to forgive and help us back on the right path. He is our loving and caring Heavenly Father and never gives up on us. If we allow him He will safely lead us through, around, or over the troubles of life, and fill us with the peace that passes all understanding.
"Short Christian Articles"

The Walk of Faith



Angels

"Angels" 




Demons and Curses
By Samuel L. Mills
Samuel L. Mills