Jesus Raises
Lazarus from the Dead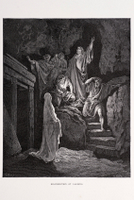 The Death of Lazarus
Jesus had been teaching in the villages beyond the Jordan, probably in Perea, which is just north of the Dead Sea. This is the place where Jesus had previously preached, and His disciples as well as John the Baptist, had at one time baptized the people.


(John 11:1-44)
Verse 1: "Now a certain man was ill, Lazarus of Bethany, the village of Mary and her sister Martha."
The Village of Bethany was close to Jerusalem, and about 20 miles or so from Perea where Jesus was teaching when He received the message that Lazarus was ill.
Verse 2-3: "It was Mary who anointed the Lord with ointment and wiped his feet with her hair, whose brother Lazarus was ill (Matt 26:7-13). 3So the sisters sent to him, saying, "Lord, he whom you love is ill."
As Lazarus began to grow very sick, so his sisters Mary, and Martha, having seen Jesus' perform miracles, had sent for Him.
During that time praying for the sick is said to have been a religious obligation, or duty, but the main reason Mary and Martha sent for Jesus was because they knew He had healing power.
Verse 4: "But when Jesus heard it he said, "This illness does not lead to death. It is for the glory of God, so that the Son of God may be glorified through it."
By Jesus saying "This illness does not lead to death" meant that the purpose of the sickness was not death, but in the glorification of the Son of God. AS we have seen John prefers to note Jesus miracles as "signs" and works that glorify God. In this case the glory of God is more significant than the sickness.
Verses 5-7: "Now Jesus loved Martha and her sister and Lazarus. 6So, when he heard that Lazarus[a] was ill, he stayed two days longer in the place where he was. 7Then after this he said to the disciples, "Let us go to Judea again.""This illness does not lead to death "
Jesus loved this family and actually stayed with them quite often; even so, He didn't go immediately, waited two more days, but He had a reason.
In this study we've seen a number of examples of God's perfect timing, especially relating to His delays, and can see that often times when our prayers are not answered immediately we should remain patient; because it may simply be that it doesn't yet fit with His predetermined schedule for us.
In speaking of Judea, He was of course speaking of Bethany, about a days journey of 20 miles. He also plainly tells His disciples "this illness does not lead to death."
By this time in Jesus ministry the disciples had seen a number of miracles by Jesus, beginning with the water being turned to wine, miraculously feeding five thousand people, walking on water, restoring sight to the blind, even so, do you think they were ready for what was coming next?
Verse 8: "The disciples said to him, "Rabbi, the Jews were just now seeking to stone you, and are you going there again?"
The disciples obviously knew Jesus had, what at least appeared to them, to narrowly escaped being stoned by the Jews while in Judea, and were concerned, and apparently astonished that He was actually intending to return.
Verses 9-10: "Jesus answered, "Are there not twelve hours in the day? If anyone walks in the day, he does not stumble, because he sees the light of this world. 10But if anyone walks in the night, he stumbles, because the light is not in him."
The overall thought here concerning day or night is that the hours of the day are not affected by circumstances, but are there to be used when available. Jesus' hour (the twelfth hour) had not yet come, so the only course was to go about His mission while making use of every hour.
As a matter of interest:
Speaking of day and night, Both the Jews and the Romans had what would appear to us to be a rather strange method of dividing the hours of daylight into twelve, which would mean not all hours would be exactly sixty minutes, which would vary in length according to the time of year. (makes us appreciate only having to adjust to daylight saving time doesn't it?)
Applying light and darkness to our lives, Day symbolizes the knowledge of God's will, and night the absence of his knowledge. This tells us that when we move ahead in the darkness, without His light/guidance, we will be likely to stumble.
Verses 11-15: "After saying these things, he said to them, "Our friend Lazarus has fallen asleep, but I go to awaken him." 12The disciples said to him, "Lord, if he has fallen asleep, he will recover." 13Now Jesus had spoken of his death, but they thought that he meant taking rest in sleep. 14Then Jesus told them plainly, "Lazarus has died, 15and for your sake I am glad that I was not there, so that you may believe. But let us go to him."
"To be asleep" was a common metaphor for death in Jewish texts, so the disciples interpret Jesus' words too literally, and try to persuade Him not to go.
Verse 16: "So Thomas, called the Twin, said to his fellow disciples, "Let us also go, that we may die with him."
Thomas, also known as "Doubting Thomas" leads the others by saying "Let us also go, that we may die with him." (Doesn't seem to be much doubt here does there?)
The disciples knew the danger of going with Jesus and yet went with Him. The may not have, at this time, understood why Jesus would be killed, but they were loyal. (we have to remember that there can be a high cost of being Jesus disciple.)
If Jesus had been with Lazarus at his death, or during the final moments, Jesus might have healed him rather than let him die. But, as we were told earlier, Lazarus died so that Jesus' power over death could be shown to his disciples and others.
When we stop to consider, the resurrection from the dead is a crucial belief of Christian faith; so the resurrection of the dead was an essential display of his power.
I Am the Resurrection and the Life:
Verse 17: "Now when Jesus came, he found that Lazarus had already been in the tomb four days. 18Bethany was near Jerusalem, about two miles off, 19and many of the Jews had come to Martha and Mary to console them concerning their brother."
Lazarus would have been buried on the day of his death, so he had been dead four days. It was the Jewish community's essential duty to comfort the mourners, The neighbors would also provide the first meal after the funeral, it was expected; So when Jesus arrived, "many" friends and neighbors were there consoling Martha and Mary over the death of Lazarus.
Bethany being so close to Jerusalem was a much larger city and could have been one reason why there were so many friends and neighbors present.
Verse 20: "So when Martha heard that Jesus was coming, she went and met him, but Mary remained seated in the house."
The mourning among the Jewish community of that time actually extended for a full year. The first week was spent sitting on the floor which apparently Mary was doing. For the next three weeks they wore no "adornment," (jewelry, and makeup, I guess) and for the following year were to abstain from common pleasures.
Some think the reason Martha went out to meet Jesus, and Mary stayed inside was the result of a basic personality difference, where Martha was very active and out-going and Mary being inactive and withdrawn would sit at home; however with no scriptural support, this can only be supposition.
Apparently messengers had met Jesus on the outskirts of Bethany and informed that Lazarus had died four days earlier, thus confirming Jesus' statement earlier to His disciples in verse 14 that Lazarus was dead. Martha went to meet Him and their conversation is considered by some to be the most theological of the whole incident.
A Great Conversation between Jesus and Martha:
Verses 21-22: "Martha said to Jesus, "Lord, if you had been here, my brother would not have died. But even now I know that whatever you ask from God, God will give you."
In verse 21, "Martha shows very deep faith and saying that Jesus could have prevented Lazarus death, but an even deeper faith and understanding in verse 22, when she said "but even now, I know that whatever you ask from God, God will give you."
Verse 23-24: "Jesus said to her, "Your brother will rise again." 24 Martha said to him, "I know that he will rise again in the resurrection on the last day."
We see here a double meaning in that, Jesus was saying that He would not only raise Lazarus from the dead in the present time, but also, along with every Believer in the resurrection.
Verse 25: "Jesus said to her, "I am the resurrection and the life. Whoever believes in me, though he die, yet shall he live,"
And in Verse 25 is the fifth of the great "I AM's. "Here He declares with all authority "I AM" "God" the one with no beginning and no end, have the "resurrection and the life,"
Verse 26-27: "and everyone who lives and believes in me shall never die. Do you believe this? She said to him, "Yes, Lord; I believe that you are the Christ, the Son of God, who is coming into the world."
Jesus says "anyone who lives and believes in me shall never die", and doesn't the world want to know what this means" We know it to mean that when we ask Christ into our hearts/lives we are born again, and although our body eventually wears out and dies that we as children of God do not die, we simply go where He is and continue to live.
As Jesus said we "shall never die" meaning we will live in an eternity in a place so beautiful that when some of our greatest prophets, even "John" the one who wrote the book we are now studying, were given a glimpse into heaven, they were not allowed to describe the beauty and greatness they saw.
Not only will we live forever, but when Jesus returns, at the second coming, we will receive our glorified bodies that will be capable of living forever.
At the end of verse 26 Jesus asks Martha, "do you believe this? Her answer in verse 27 was every bit as deep and meaningful as any Peter ever made, "...yes, you are the Christ, the Son of God." And this was before He raised Lazarus from the dead.
Jesus Weeps, Discusses His Death and the Last Enemy:
Verse 28-29: "When she had said this, she went and called her sister Mary, saying in private, "The Teacher is here and is calling for you." 29And when she heard it, she rose quickly and went to him."
So Martha went in private and told Mary that Jesus had arrived and wanted to talk to her, and, in verse 29, "she rose quickly and went to Him."
Verses 30-31: "Now Jesus had not yet come into the village, but was still in the place where Martha had met him. 31When the Jews who were with her in the house, consoling her, saw Mary rise quickly and go out, they followed her, supposing that she was going to the tomb to weep there."
32Now when Mary came to where Jesus was and saw him, she fell at his feet, saying to him, "Lord, if you had been here, my brother would not have died."
In verse 32 she fell at his feet, saying, "Lord, if you had been here..." which was basically the same thing Martha had said. Mary is portrayed as being even more emotional than Martha with the mourners consoling her and following her to the tomb.
33When Jesus saw her weeping, and the Jews who had come with her also weeping, he was deeply moved in his spirit and greatly troubled. 34And he said, "Where have you laid him?" They said to him, "Lord, come and see." 35 Jesus wept. 36So the Jews said, "See how he loved him!" 37But some of them said, "Could not he who opened the eyes of the blind man also have kept this man from dying?"
Jesus, who was God the Son, after seeing Mary weep was "deeply moved in His spirit and greatly troubled." This is in contrast to the concept of God that was popular in that day - a God with no emotions and no messy involvement with humans. Here, Jesus expresses emotions, compassion, indignation, sorrow, frustration. In verse 35 "Jesus wept" and in 38 various translators translate his emotions as "anger," which would have been directed to Satan. Verse 35:" Jesus wept."
Verse 35 goes on to say that "Jesus wept." In verses 36 and 37 the Jews were again divided in their opinions. Some were touched by His compassion and love, while others wondered why, if he had opened the eyes of the blind, He couldn't have kept Lazarus from dying.
Jesus Raises Lazarus Verses 38 "Then Jesus, deeply moved again, came to the tomb. It was a cave, and a stone lay against it.
The expression "deeply moved again" in this translation (ESV) is translated in others as "groaning." In either case the word was used to express anger in Mark 14:5 and to indicate speaking with deep feeling in John 11:33.
Tombs at this time were usually caves carved in the lime-stone rock of a hillside, and were often large enough for people to walk inside. It was not unusual for several bodies to be placed in one tomb. The tomb was then sealed by a large stone being rolled across the entrance.
Verse 39: "Jesus said, "Take away the stone." Martha, the sister of the dead man, said to him, "Lord, by this time there will be an odor, for he has been dead four days."
Since four days had passed, and decomposition was surely well under way, Martha became upset when Jesus ordered the stone to be rolled away.
Some details, we may or may not be interested in: But in that day the body was typically wrapped and left lying on the floor. A year later the family members would return and collect the bones in a box, which they would then slide into a slot on the wall.
Verse 40: "Jesus said to her, "Did I not tell you that if you believed you would see the glory of God?"
Here, Jesus reminds Martha of what He had previously promised her, and asking her to dig deeply into her faith said, "Did I not tell you that if you believed you would see the glory of God?", Jesus really put her on the spot, didn't He? (didn't this take a lot of faith on her part?)
Verse 41-42: "So they took away the stone. And Jesus lifted up his eyes and said, "Father, I thank you that you have heard me. 42 I knew that you always hear me, but I said this on account of the people standing around, that they may believe that you sent me."
So in verse 41, Martha allow the stone to be rolled away, and Jesus prays to the Father! Jesus thanked the Father that He had already heard Him. He knew what was going to happen; so His prayer was for the benefit of the people that they might see this mighty miracle that was about to happen with their own eyes and believe He was from God.
Verse 43: "When he had said these things, he cried out with a loud voice, "Lazarus, come out." 44 The man who had died came out, his hands and feet bound with linen strips, and his face wrapped with a cloth. Jesus said to them, "Unbind him, and let him go."
With a 'loud voice" He commanded Lazarus to come out! And verse 44 says "the one who had died came out with his hands and fee bound with linen strips, and his face wrapped with a cloth.
The loud voice couldn't have been so that Lazarus could hear Him, a whisper would do that, but there were many people there, and Jesus spoke in a loud voice so that they would hear and know that indeed Lazarus was brought back to life, and came forth at His, the great "I AM's command.
Again, the custom was for the deceased to be wrapped in long cloth strips. This wrapping was said to be thorough, binding the limbs to keep them straight, and even the cheeks to keep the mouth shut; the face cloth may have been a yard square. This tight wrapping would obviously have made it impossible to walk, so when, at Jesus command, Lazarus came forth, Jesus ordered them removed.
Something of interest: Men could not wrap women's corpses, but women could wrap both men and women, so it's likely, or at least possible that Lazarus may have been wrapped by his sisters.
Concerning Lazarus Resurrection
Lazarus was not raised from the physical dead to live forever. The life Jesus restored to Lazarus would cease at his subsequent physical death. Though he is present with the Lord, he awaits with all Christ's people for the bodily resurrection.


Our next study, John 11:45-57 - 12:1-11.
Goes into the plot to kill Jesus, His anointing at Bethany, and, the Plot to Kill Lazarus.
The Plot to Kill Jesus


Gospel of John Bible Study

Home



Jesus raises Lazarus from the Dead
Samuel L. Mills