In Memory of
A Beautiful Lady and Friend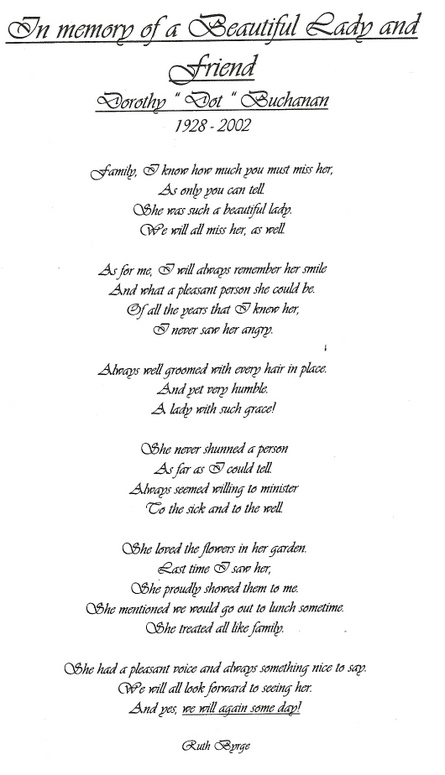 "One Who Loved God"
Mary Katherine, my good friend
We had no way of knowing
Your life here was going to end.

Had we known that you were going home
More attention toward one another
I'm sure we would have shown.
Makes you wonder what's more important to us now,
Visiting and spending time with each other,
Or striving to get those chores done somehow.
You were a friend to many
A very special one to me.
Always filled with a joyful spirit
Praising God for all to see.
For all who witnessed you at worship
Saw you dance before the King.
Now we know that you are with Him,
Evermore His praise to sing.
Ruth Byrge
5-17-99
"Too Young Mothers"
It's good that the younger women marry,

Bear children and be keepers of the home,

If we would but acknowledge this one saying,

God's word would stand alone.

I know that according to the world's way

And even in our own thinking

This seems foolish and outlandish

That to the bread winner's job we are not linking.

But let us stop and consider

What is more important to us now.
God says to first seek His Kingdom

Then these other things would come some how.

We just have to trust Him.

And know that his word should in us be.

Remember what He tells us that

Knowing the truth shall make us free.

Titus 2:4,5
1 Timothy 5:14

This poem is not meant to stand in judgment of working mothers, but to support and encourage the young mothers who wish to stay home with their children, (and can afford to do so), but feel pressured to do otherwise.

Ruth Byrge
Christian Poems

Trusting in Jesus Home Page 

                                                                                     Top

"As an Amazon Associate I earn from qualifying purchases."